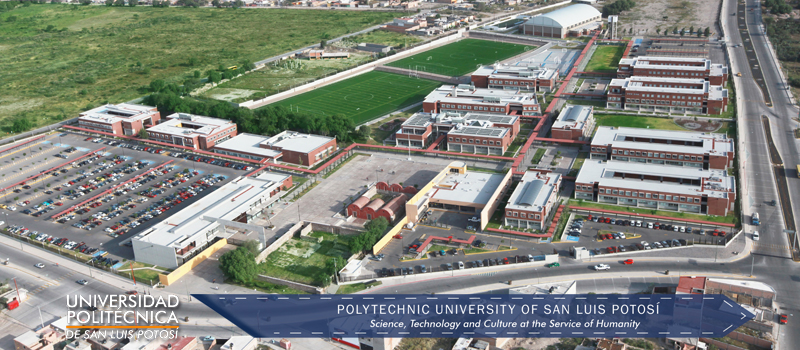 Mission
The Polytechnic University of San Luis Potosí is committed to excellence in holistic human development and to the learning, development, and application of new knowledge.
The Polytechnic University of San Luis Potosí joins students, teachers, and administrative staff to create a community of the highest academic quality based on an open and flexible educational model that is committed to the social and economic progress of the state and the country.
The mission is advanced through teaching and academic guidance as well as through applied research in areas strategic for the modern economy that is always linked with the needs of society and the productive sectors.
Last reviewed: May 4, 2006
Values
Integrity
Responsibility
Transcendence
Perseverance
Social responsibility
Respect
Affection
Service
Freedom
Justice
Effort
Solidarity
Teamwork
Commitment
Continuous improvement
Consistency
Last reviewed: February 8, 2011
Vision
We aspire to be a university well-established in the area of developing competent professionals who distinguish themselves by their contributions to the development of Mexico and San Luis Potosí and who are recognized in their professions and their communities.
The Polytechnic University of San Luis Potosí is a space of intellectual development that attracts the most talented students and professors who feel proud to belong to this academic community.
The university effectively leverages technology in academics, keeping itself on the cutting-edge in new technologies by using them in development, research, and management.
The university develops strategic activities in the field of technology innovation in the research areas in which it is involved, and it is an active participant in innovation in the region through projects related to training, consulting, and the high level development of technology for the business sector. The university develops projects in conjunction with private companies and the government.
The university is characterized by its intense academic and cultural life. It opens its doors regularly to society in order to share and disseminate its work in the areas of science, technology, and culture.
Last reviewed: March 28, 2014
Quality Assurance Policy
At the Polytechnic University of San Luis Potosí, we are committed to the holistic development of our students, which will serve to help them develop both as successful professionals and useful members of society. We do this through the educational programs that we offer, engagement, applied research, technological development, consulting, and continuous education. We recognize that the way to achieve this is by being mindful of the standards applicable to stakeholders and to the continuous improvement of our quality management system.
Version: 2
Last reviewed: October 26, 2018
Safety, hygiene, and environmental policies
At the Polytechnic University of San Luis Potosí, we are committed to acting with social responsibility according to our values to ensure a harmonious coexistence among the members of the university community. We do this by maintaining secure, hygienic, and healthy conditions that ensure the physical integrity of all of our community members and by protecting and improving the environment. In this way, we contribute to the sustainable development of our surroundings and society.
Last reviewed: June 9, 2010
Strategic Objectives
1. Maintain and strengthen the relevance and quality of our educational programs
2. Enhance educational innovation
3. Strengthen academic capacity and competitiveness
4. Strengthen academic cooperation and engagement
5. Improve the attention to students and their holistic development.
6. Establish an institutional management and evaluation system based on a focus on quality and oriented towards permanent innovation, promotion of a culture of transparency, and accountability.
Last reviewed: November 28, 2014