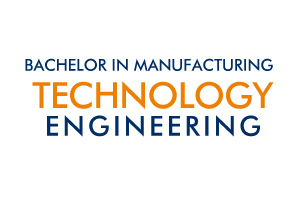 Level:
Undergraduate
Degree Obtained:
Bachelor in Manufacturing Technology Engineering
Duration:
Nine semesters
Description:
The Bachelor in Manufacturing Technology Engineering was designed to cover different areas in the industrial sector, and it is made up of three modular pillars: automation and the control of processes, advanced design, and the management of processes. The knowledge that is transmitted to students is done so through a focus on competencies, which allows for the improvement of their skills socially as well as cognitively. This helps students to face challenges in different work environments. At the beginning of their studies, students take courses that form the foundation of the three pillars and learn about concepts related to physics, mathematical and logical reasoning as well as social integration.
See more
Management allows students to improve aspects of quality control in processes and products as well as the coordination and guidance of staff. Advanced design creates a vision that goes further than the application of technical knowledge, and when combined with automation and the control of processes, advanced design increases the possible career paths available to alumni.
The use of technology for the teaching and learning process is a constant in the life of students. It begins with software designed for practice activities and continues until students are using technology for automation and control processes as well as machine tools, measurement systems and plastic injection equipment. This progression results in meaningful learning that will help students to successfully enter and adjust to the workplace. One of the strengths of the major is without a doubt the Advanced Manufacturing Center, which has been recognized by FESTO® as a FESTO Certified Training Center and where students carry out practice activities and do practice certification exams.
Once students have completed their coursework, they do an internship which consists of a minimum of 480 hours in a company and during which students should conduct a project that is evaluated by the company and the university. This project is part of the evaluation of the final project.
The students of the Bachelor of Science in Manufacturing Technology Engineering can participate in a robotics club which competes at the national and international level. This club helps students to improve their skills through further development of logical reasoning and programming..
The program also has a transition to work program called COOP for students to enter the industrial sector. This program is designed for students in the sixth semester and later who have a high average and a good level of English. During the program, half of a group of qualified students work in a company in the industrial sector for three months while the other half of the group continues with classes.
Academic Program:
See the Academic Program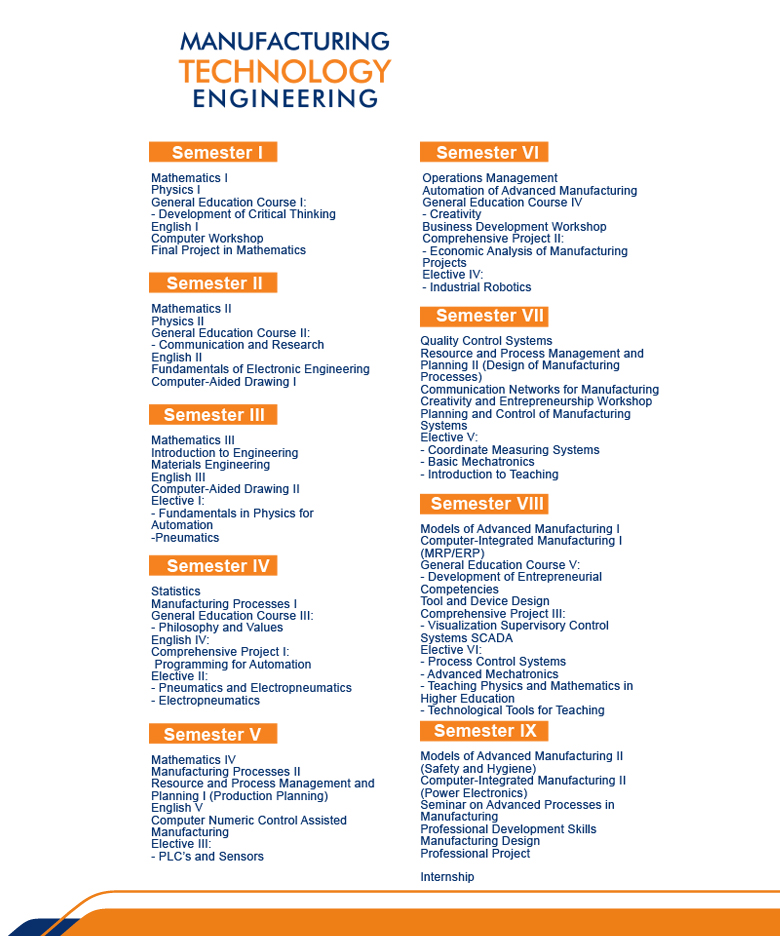 Facilities and Resources:
Certifications:
Certification in Pneumatics.
Certification in Electropneumatics.
Certification in Hydraulics.
Certification in Electrohydraulics.
Certification in Programmable Logic Controllers (PLCs).
Certification in Sensors.
Certification in Industrial Robotics.
Certification in Open and Certified Field Buses (Industrial Communication Networks).
Certification in Flexible Manufacturing Systems.
The program also has a LabView Certification.
As you can see, certifications are linked with the majority of the equipment in the laboratory. There are other courses available that do not lead to a certification but still play an important role in the development of competencies for an engineer in the field of manufacturing technology. 


Programming for Automation.
Manufacturing Processes I (Machinery, Boiler Works, and Welding).
Manufacturing Processes II (Plastics).
CAD/CAM and Computer Numeric Control Assisted Manufacturing.
Coordinate Measuring Systems.
Computer-Integrated Manufacturing I (MRP/ERP).
Supervisory Control Systems SCADA.
Process Control Systems.
Computer-Integrated Manufacturing II (Power Electronics).
There are also courses that require the use of software. These include:
Computer-Aided Drawing I (CAD).
Computer-Aided Drawing II (CAD).
Resource and Process Management and Planning II (Design of Manufacturing Processes).
Tool and Device Design.
Manufacturing Design.
Achievements and Highlights
Second place in robotics competition organized by the IEEE (Brasil, 2008).
First place in LabView Robotics Challenge (2012).
1st place in the 4th Annual International Robotics Tournament "Vex Robotics" in the Design Category (Saltillo, 2013).
1st Place in the 3rd Annual Regional Robotics Tournament Vex-Reeduca in the Design Category (Aguascalientes, 2014).
7th place in the World Championship "Vex Robotics" (Anaheim, California, 2014).
In February 2016, students in the sixth and eighth semesters earned first place in the 1st Annual ABB Robotics Contest, which was held in the Manufacturing and Engineering Campus of AAB. The prize was an ABB Robot Model IRB 140.
Participating Students:
Eli Israel Méndez López                                130415 6th Semester
Roberto Vargas Martínez                              130415 8th Semester
Antonella Argüelles Gutierrez                       120877 8th Semester
Armando de Jesús Hernández Niño              120063 8th Semester
Advisor: Maestro Juan Rocha Chavarría.
Faculty:
Dr. Margarito Martínez Cruz
Education:
Ph.D. in Electrical Engineering, UASLP.
M.A: in Engineering, UASLP.
Bachelor of Science in Electrical Engineering, UASLP.
Research levels:
Basic, Scientific and Technological.
Has received support from SNI and PRODEP as a research candidate from 2011-2014 and a researcher with a prestigious profile from 2015-2018.
Dr. Martínez started working at the university in February 2009.
Area of Speciality:
Automation and control of industrial processes, electricity and industrial electronics, applied mathematics.
Collaborations with other educational institutions and businesses:
IPICyT: Harmonic Rejection Control Scheme for PWM DC/AC Power Converter y Average current controlled switching regulators with cascade boost converters.
CANACINTRA: Participated as a member of the evaluation committee for the first prize in San Luis Potosí in technology and engineering.
Dr. Margarito Martínez Cruz is an electrical engineer with an M.A. and Ph.D. with a focus on automated control from the Autonomous University of San Luis Potosí. He has had the opportunity to study post-graduate certificates in education, one from the Instituto Tecnológico Superior of San Luis Potosí and another with CUP.
He started working at UPSLP in February of 2009 as a full-time professor and is currently a Research Professor Level B. He was a candidate in the National System of Investigators from January 2012 to December 2013, and he is a member of the Mexican association of automated control (AMCA), SMCTM, and SOMIM and currently is considered to have a prestigious profile from PROMPET. He also has certifications from FESTO and National Instruments.
His area of speciality is the analysis and synthesis of controllers for dynamic systems, in particular power electronic systems, electrical machinery, alternative sources of energy, and manufacturing technology.
Publications: Dr. Martínez has published 3 articles in journals, has participated in 12 national and international conferences, and has been a thesis advisor for 2 students at the M.A. level.
Mtro. José Ángel Jaramillo Santacruz
Education:
Bachelor of Science in Industrial Electronic Engineering.
M.A. in Manufacturing.
Research Levels:
Has received support from SNI and PRODEP
Start date at UPSLP: June 25, 2007
Areas of Speciality: Manufacturing and Automation.
Collaborations with other educational institutions and businesses:
CIATEQ, Datiotec, IMEU, Exchange House, Remy, PGI.
Highlights & Accomplishments:
Jose Ángel Jaramillo completed his Bachelor of Science in Industrial Electrical Engineering and his M.A. in Manufacturing in the Technological Institute of San Luis Potosí. He has more than 25 certifications in a variety of automation and manufacturing technology from business, including Closs Gmbh, Karl Zeiss, Institute SLV, Festo, Mitutoyo, Kuksa, Main Casa.
He has 20 years of experience in industry, with the last 15 at the managerial level. He has worked as a professor for over 25 years and has worked at a variety of institutions of higher education, such as ITSLP, Conalep, UVM; UASLP, UTSLP, UPSLP, CIATEQ.
His area of speciality is metal mechanical manufacturing using CNC and flexible manufacturing systems.
He was a key contributor to the creation of solid combustible motors at ITSLP and was a leader of the Academic Body of Industrial Engineering at USLP from 2004 to 2007, where he promoted the development of a workspace for the measurement of mechanical metal pieces. He is an examiner of automation technology certifications through the FACT GOLD C0102010 center. He is currently in charge of laboratories and workshops in the manufacturing center at UPSLP.
Alumni Profile:
A graduate from the Bachelor of Science in Manufacturing Technology Engineering is capable of handling the needs that arise from the processes of transformation involved in manufactured products and contributes to the local, regional and national development in the following ways:
• Developing manufacturing processes to increase competitiveness through the use of appropriate technology.
• Developing production strategies to improve productivity and quality.
• Developing programming for control systems that can carry out factory processes and help the client: PLC, sensores, robots and CNC.
• Developing maintenance programs according to factory programs and to clients' needs.
• Managing quality control systems according to international standards.
• Managing production and quality control systems according to the standards used by world class businesses.
• Creating manufacturing projects that incorporate an economic and technological perspective.
• Using Lean Manufacturing tools to improve productivity and quality.
Career Paths:
A graduate from the Bachelor of Science in Manufacturing Technology Engineering has the skills necessary to develop professionally in all areas of manufacturing, such as chemical, metalworking, food, automotive, aeronautical, foundry, industrial rubber, plastics, mining, pharmaceutical, research centers, technological development, among others.
Sites of Interest:
Department of Manufacturing Technology Engineering