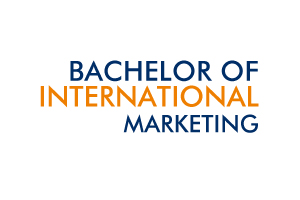 Level:
Undergraduate
Degree obtained:
Bachelor of International Marketing
Duration:
Nine semesters
Description:
The Bachelor of International Marketing includes the following areas: the ability to plan, design and implement communication strategies for a business, including publicity and image campaigns, sales promotions, personal sales, public relations, among others.
See more
The ability to plan, design and implement market research that obtains the necessary information to make decisions in different areas of marketing, such as price setting, the development of new products, commercialization of current products, and communication and distribution strategies.
Elements of strategic market diagnostics that make it possible to respond in an agile manner to the changes in the environment by anticipating trends, changes and innovations in order to maintain an organization's market position.
The development of management skills to coordinate different areas of an organization, such as leadership in collaborative work, the capacity to learn autonomously, and a high level of social commitment.
Academic Program:
The Bachelor in International Marketing is made up of nine semesters. During the last semester, there is an internship in a business in the productive sector. 
See the Academic Program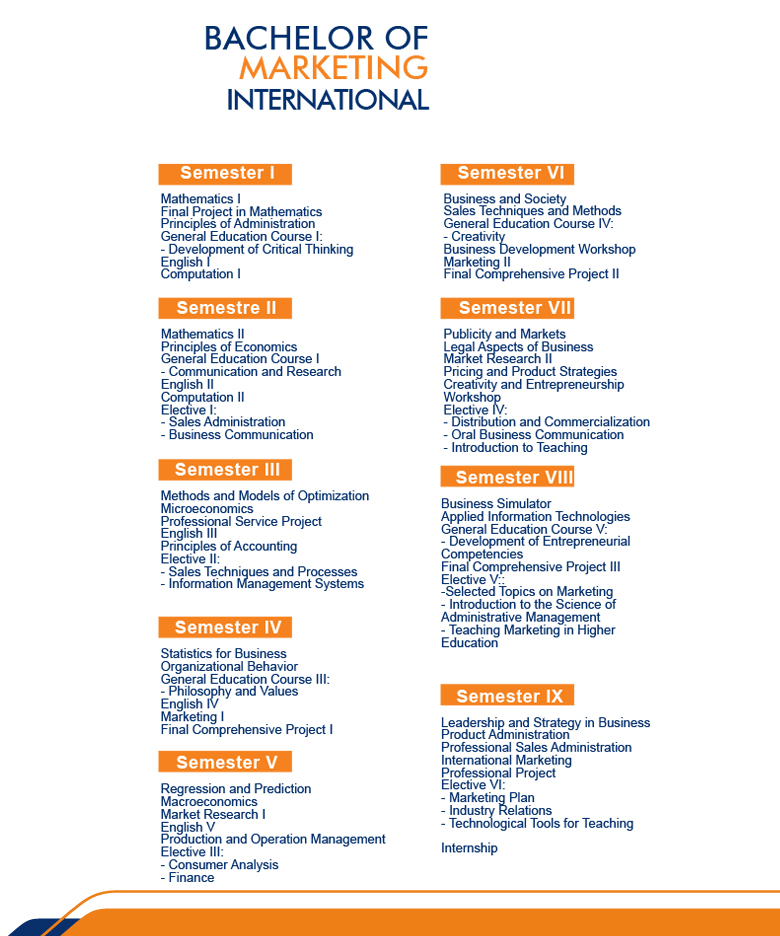 Facilities:
Integrated Center for Marketing and Audiovisual Media (CIMMA) See more.
GESELL room
The GESELL room is a space that has been set up to observe people. It is made up of two separate spaces with a two way mirror. Each space has audio and video equipment to record different experiments, such as group sessions, market research and product analysis.
Information and Documentation Center.
Computer Labs
Certifications:
First Certificate Exam in English, University of Cambridge.
Microsoft Office Specialist.
Achievements and Highlights:
Recognized by CENEVAL as a bachelor's degree with a high level of academic performance.
Participation in the Student Mobility Program with Warsaw University of Technology.
Participation in the Certamen Trayectoria de Éxito, A.C.- award for exemplary studies.
CIEES 2010 Certification.
Faculty:
L. Renée Dueñas Salmán
L. Renée Dueñas Salmán is a doctoral student in Sciences and Humanities for Interdisciplinary Development, UNAM-CEIICH-UAC. She has a B.A. in Public Accounting from UASLP, an MBA in Strategic Marketing from the University of Lincolnshire and Humberside, and a M.A. in Administration from UASLP. She has completed graduate certificates in Participative Research at Complutense University in Madrid, and in Socioeconomic Methodology for the Analysis and Management of Organizations, ISEOR, France. She has certifications in English, language teaching, and competency-based education. She was an adjunct professor from 2002 to 2006 at UPSLP, and has worked as a full time professor since 2006. Ms. Dueñas is a member of the academic body "Local Development and Business Competitiveness" and an invited guest to a group dedicated to creating an engineering degree in social communication. She has published articles on business studies, a culture of participation, and education. She has professional experience in both academics and business and has been an entrepreneur of a small business since 2004.
Xóchitl Hernández Velázquez
Xóchitl Hernández Velázquez has a B.A. in Communication Sciences from UASLP and a M.A. in Marketing from ITESM San Luis Potosí.
She has 10 years of professional experience in marketing and communications. Her area of speciality is commercialization and internal communication strategies (interventional and/or institutional).
She served as department head of APRINTEL Distance Education System at ITESM San Luis Potosí, and also worked as a professor at ITEM San Luis Potosí, UVM, Tangamanga University and Mesoamericana University.
She began her teaching career at UPSLP as an adjunct professor in 2008 and became a full time professor in 2015. She currently teaches courses on sales and leads projects in the area of sales and brand activation. She is a leader in Sales Force Fest which continues to become more and more important year after year in the area of business strategy and promotional communication.
She is a member of the EGEL academic committee on marketing, and works as a trainer and independent consultant in commercialization and internal communication.
Alumni Profile:
A graduate from the Bachelor in International Marketing is a professional specialized in the analysis and diagnosis of different markets that a company exists within and markets a company plans to expand to.
See more
 The leadership capacity of this professional allows them to design strategies and plans aimed at positioning an organization by promoting business exchanges in markets in a way that is dynamic, profitable and satisfactory.
Sites of Interest:
www.amamex.org.mx
www.amai.org
For More Information:
Department of International Marketing (LMI)